Some of the best race courses in the country are to be found in Yorkshire:- Doncaster, York, Pontefract, Wetherby. All within 20-miles of Wentvale.

The town of Pontefract has a ruined castle, site of the death of Richard II. The castle houses a working blacksmith, and also has associations with Robin Hood. It's name comes from the latin for "broken bridge" (Pontus fractus), a reference to a bridge at nearby Ferrybridge. The town is famous for its liquorice sweets especially Pontefract Cakes. The Liquorice Fayre is held every August. Pontefract is also famous for its horse racing with meetings held throughout the year .

If bird watching is your interest - the R.S.P.B have a super site at Fairburn Ings which has recently been established at a cost of £170.000 and is just five miles north of Wentvale.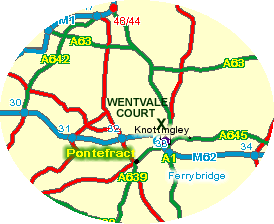 The exciting aquarium " The Deep" located in Hull is approximatley 40-minutes down the M62. Hull also boasts a good theatre and excellent shopping centre
There is much,much more that Yorkshire has to offer and Wentvale Court is ideally situated to be used as a
welcoming base
Wentvale Court
Great North Road, Knottingley, West Yorkshire, WF11 8PF
Tel 01977 676714
E Mail wentvale1@btconnect.com

Xscape Snowdome opened in Autumn 2003. The complex features not only an indoor real snow ski slope but also giant indoor and outdoor skate parks. The new boarding Mecca of the UK perhaps

There are various levels of golf in the area, so if you are just looking for an hour at the driving range or an actual round, I am sure we can arrange something for you. There is Darrington Golf Club and driving range approximately five miles away, and a Municiple and private Golf Course at nearby Pontefract.

Serious shopping is to be had around Wentvale. The Freeport Designer Outlet in Glasshoughton, Castleford where many designer shops offer up to 50% of the normal High Street prices. Or, for deadly serious shoppers - catch the train from Knottingley to Leeds to the fabulous Victoria Quarter and the famous Harvey Nichols store